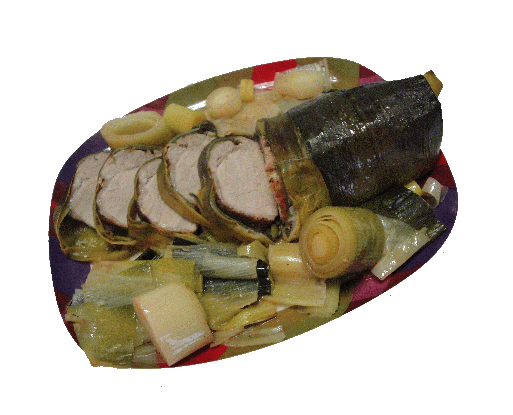 Ingredients:
   2 lbs    Boneless Pork Loin Roast
              Salt
              White Pepper
              Paprika
              Garlic Powder
    ¼ lb    Butter
     2-3    Leeks (about 2 lbs)
   2 tbs    Flour
   1 cup    Milk
         3    Eggs, separated
               Juice of ½ Lemon
1 pinch    Nutmeg
Directions:
Season meat with salt, pepper, paprika and Garlic and brown in 1½ tbs butter on all sides (about 20 minutes).
Clean leek and blanch for 2 minutes, remove from water and drain. Lay out leeks on towel (Saran Wrap works  too) so leaves overlap slightly, approximately ¼ inch.
Put browned roast on leeks and with the aid of the towel wrap leek around roast.
Return to previously used roasting pan and add 1 cup water.
Cover and roast for 1 hour at 350°F.
Cut up the leftover leek leaves into chunks and add to roaster after the roast has cooked for 1 hour, continue cooking at 375°F until internal temperature of roast is 180°F (about ½ hour).  
Sauce:
Melt remaining butter then add flour, bring to simmer – do not brown.
Gradually add milk, stirring constantly until smooth.
Slightly beat egg yolks with lemon juice, nutmeg, salt and pepper then add to milk mixture stirring until well mixed over low heat.
Beat egg whites until stiff peaks form and fold into egg yolk mixture.
Slice roast and place on platter surrounded with the cooked leeks. Serve sauce on the side with the roast.