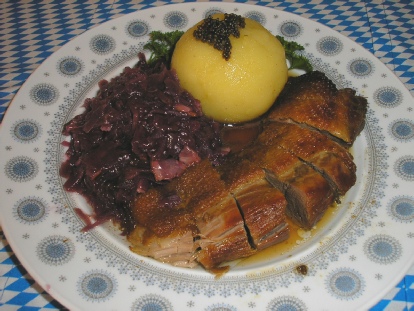 Ingredients:
   1¾ lbs    Goose Breast
     1 tsp    Salt
    ½ tsp    Pepper
          1    Cooking Onion
2 stems    Mugwort
    2 tbs    Beer or Salt Water
     1 qt    Water
Directions:
Preheat the oven to 350°F.
Season the goose breast with salt and pepper and place in a roasting pan.
Cut the onion in eighths and add together with the mugwort to the roaster.
Add 1 quart of water.
Roast for approximately 1½ hours, basting the skin frequently with beer or salt water.
Check with a meat thermometer, the internal temperature should be 180°F.
Remove from the oven, place the breast onto a pan and broil until the skin is crispy.
In the meantime skim the fat from the gravy.
Sieve the gravy into a pot, add salt and pepper if needed and simmer to keep warm until the breast is ready to serve.
Remove the breast meat from the bone and slice.
Serve with dumplings and red cabbage or sauerkraut and a side of Lingonberries.
Roasted goose is a special meal served at "Franconian Kirwa" (Kirchweih).
Click the link above or see our Bavarian web site for explanation.