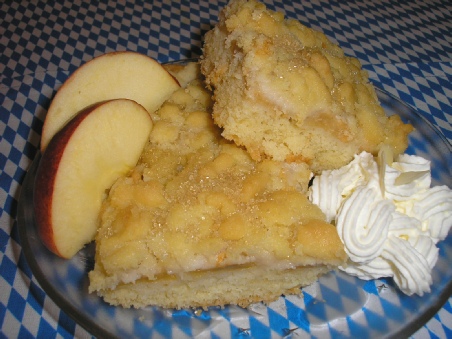 Ingredients: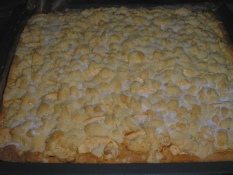 Batter:
   250 g    Unsalted Butter, soft
   250 g    Sugar
   1 pkg    Vanilla Sugar (9 g)
          3    Eggs
     14 g    Baking Powder
   500 g    Flour
Filling:
Topping – Streusel:
  200 g    Unsalted Butter, soft
  200 g    Sugar
  300 g    Flour
1 pinch    Cinnamon
Directions:
Line the bottom of a jellyroll pan with parchment paper.
Preheat the oven to 320°F.
Batter:
Whip the butter, both sugars and add the eggs one at a time.
Mix the flour and baking powder together, add gradually to the butter mix.
Spread the batter onto the parchment paper.
To make it easier place plastic wrap over the batter and use a rolling pin to spread it out.
Peel core and slice the apples and evenly spread onto batter.
Topping:
Knead all the ingredients together and crumble coarsely over the apples.
Bake for 40-45 minutes until golden.
Remove from the oven and sprinkle with 50-100 g of sugar to taste.