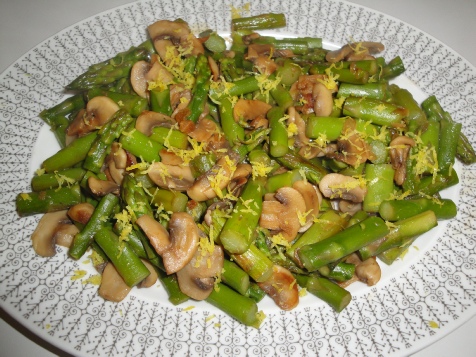 Ingredients:
    1¼ lb    Asparagus
      ¾ lb    Mushrooms
2 cloves    Garlic
    ½ tsp    Lemon Zest, graded

    ⅛

tsp    Salt
     3 tbs    Oil for frying
Directions:
Trim and cut asparagus into bite size pieces.
Slice mushroom ¼ inch thick.
Thinly slice garlic.
In a large skillet heat oil and saute garlic briefly to release the flavor, do not brown.
Add the mushrooms and cook over medium heat until golden.
Stir in the asparagus and cover.
Stir occasionally and cook until the asparagus is fork tender but still crisp.
Toss with salt and lemon zest and serve.