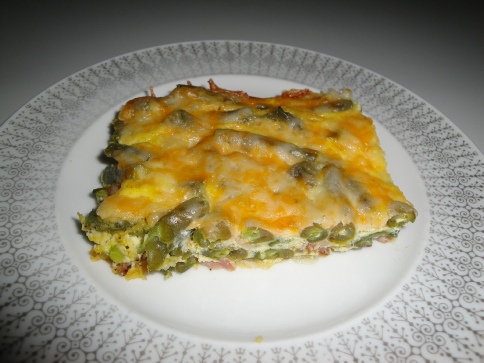 Ingredients:
1¼ lb    Green Beans

  ¼ lb    Bacon

       4    Eggs
             Salt
             Pepper
 3 tbs    Onion, finely diced
             Milk
1 cup    Shredded Cheese
Directions:
Clean and cut (1½ inch) green beans.
Precook beans in salted water, they should still be crisp, then drain.
Dice and fry bacon with the onions.
Spray casserole dish with Pam.
Mix bacon with beans and spoon into casserole dish.
Beat together the eggs, seasoning and a little milk.
Pour the eggs over the beans and top with cheese.
Bake at 350°F for 20-25 minutes.
The eggs should be set and the cheese melted.
Optional:  Seasonings can be added to eggs to taste such as garlic, summer savory, parsley, chives or marjoram.
Mushrooms can also be added to the bacon.