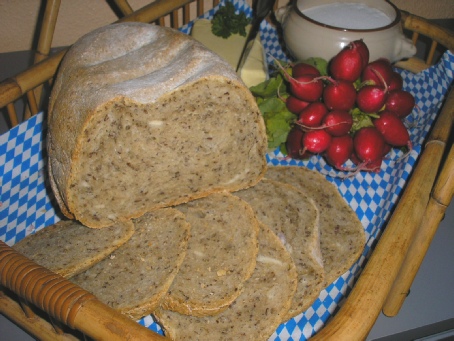 Ingredients: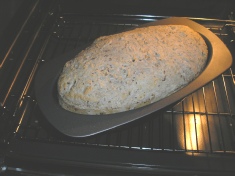 400 g    Spelt Flour
  200 g    Wheat Flour
  100 g    Rye Flour
   2 tsp    Salt
400 ml    Water, lukewarm
   3 tbs    Apple Vinegar
    40 g    Fresh Yeast
   1 tsp    Sugar
100 ml    Black Coffee, lukewarm
   50 g    Sesame Seeds
   50 g    Linseed, crushed
   50 g    Millet
The seeds can be substituted with Sunflower Seeds or similar.
Directions:
All ingredients must be at room temperature. It is important that the dough does not get a cold draft at any time during preparation and even your hands should be warm when handling the mix.
Pour the lukewarm water into a bowl. Crumble the yeast into the water and whisk lightly until it is dissolved.
Add sugar, the lukewarm apple vinegar, 8 tbs from the wheat flour and stir together.
Cover with a damp linen towel and set in a warm place for about one hour to proof the yeast. The mixture will form bubbles (refer to Internet for more information on proofing yeast).
Do not add Salt during the proofing process!
Place the rest of the flours together with the salt in a bowl and make an indentation in the center.
Add the yeast mixture into the indentation and knead together (disposable gloves make this easier).
Add the coffee (for color) together with the seeds and knead until mixed through.
Cover with a damp linen towel and place in a warm spot for approx. 1½ to 2 hours, until double in volume.
Grease the bread form with margarine.
Punch down the dough and transfer into the form.
Cover and allow to rise again for 1 hour.
Preheat the oven to 425°F.
Bake the bread at this temperature for 15 minutes.
Place parchment paper on a cookie sheet. After the initial baking time overturn the bread onto the cookie sheet and sprinkle with water.
Turn the oven down to 390°F and bake for 40 minutes.
When 20 minutes have passed sprinkle with water again.
When you tap the bottom of the loaf and it sounds hollow, it's done.
Cool on a wire rack.
A wonderful nutty flavor.
It takes a lot of time and patience to bake a great bread.