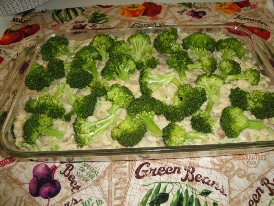 ½

cup    Onions, diced

    ½

cup    Celery, diced
      2 tbs    Butter
     1 can    Cream of Mushroom Soup
     1 can    Mushroom Pieces (15 oz)
      8 oz    Processed Cheese Sauce
     1 pkg    frozen, chopped Broccoli (15 oz)
   2 cups    Rice, cooked
1 bundle    Fresh Broccoli
Directions:
Clean and cut up the bundle of fresh broccoli then steam lightly.
Cook package of frozen broccoli according to directions.
Saute onions and celery in butter.
Soften cheese sauce.
Drain Mushrooms.
Thoroughly mix all the ingredients together, except the fresh broccoli.
Pour into a 13 x 9 inch casserole dish.
Spread the fresh cooked broccoli on top.
Bake at 350˚F for 35 to 45 minutes.
Casserole can be assembled and frozen (before baking) for up to three weeks.