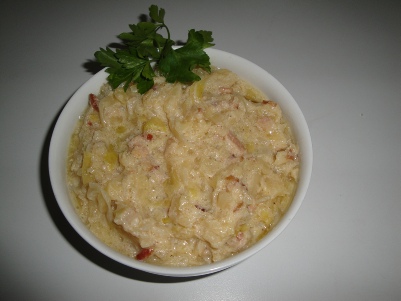 Ingredients:
1½ lbs    Cabbage, shredded
   5 oz    Bacon, finely diced
  1 cup    Onions, diced
  1 cup    Heavy Cream
  1 cup    Half and Half
 ¼ cup    Water
              Salt
              White Pepper
Directions:
In a pot fry the bacon lightly and add onions cook until onions are glassy.
Add the rest of the ingredients.
Salt and pepper to taste.
Simmer for 30 minutes.
Don't go by the looks, it is excellent!