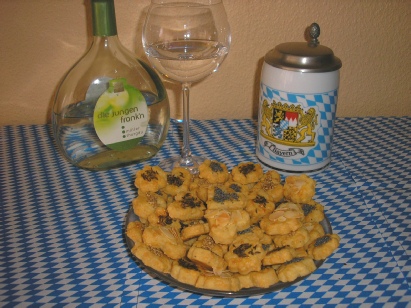 Ingredients:
Dough:
250 g    Flour
       1    Egg
180 g    Swiss Cheese, grated
200 g    Unsalted Butter, softened
½ tbs    Salt
            Paprika
            White Pepper
Wash:
      1    Egg Yolk
1 tbs    Heavy Cream
Toppings:
Sesame Seed, Poppy Seed, Coarse Salt, Roasted Onions, Paprika, Whole Caraway, Cheese or Chopped Nuts etc.
Directions:
Mix the flour and egg together, add the butter, cheese, salt, paprika and pepper, then knead until a smooth dough forms.
Wrap the dough in plastic wrap and refrigerate for one hour.
Remove the dough from the fridge and roll out to ¼ inch thickness. With small cookie cutters cut out shapes and place unto a cookie sheet lined with parchment paper.
Lightly whip together the egg yolk and cream to create a wash, brush the top of the biscuits and sprinkle each biscuit with a desired topping.
Bake for 10-15 minutes at 390°F. Makes about 100 biscuits.
Excellent with a glass of wine glass or beer.