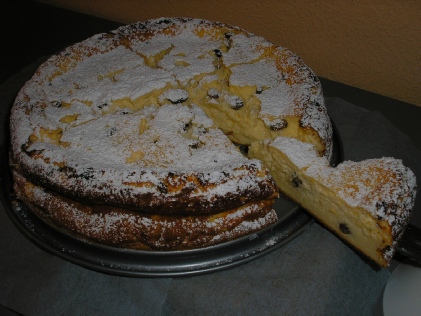 Ingredients:
  1 kg    Ricotta Cheese
       6    Eggs
300 g    Sugar
       2    Vanilla Pudding Powder, unsweetened
  14 g    Baking Powder
  50 g    Raisins
20 ml    Rum
            Confectioners sugar for Dusting
Directions:
Soak raisins in rum for 30 minutes.
Separate eggs and beat egg white with 2 Tbs warm water till stiff peaks form.
Combine cheese, egg yolks, sugar, vanilla pudding powder and baking powder and beat until frothy.
Carefully fold in the egg whites with a whisk.
Butter a 10½ inch spring form and coat it with breadcrumbs. Pour in the batter, sprinkle the strained raisins on top and push them into the batter.
Bake at 350˚F for 60 minutes.
To prevent the cake from falling:
After 30 minutes baking, carefully loosen the perimeter of the dough with a knife from the spring form and cover the top of the form with aluminum foil and bake covered until done.
Center of cake should be firm and a toothpick should come out clean.
Dust with confectioner's sugar after it cools down.