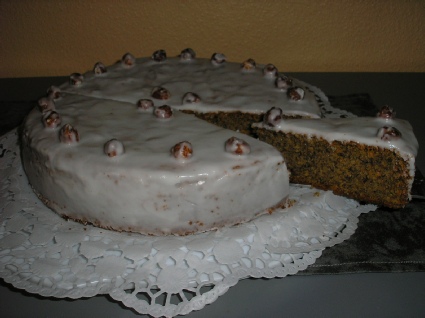 Ingredients:
        10    Eggs, separated
   300 g    Sugar
       9 g    Vanilla Sugar
   400 g    Hazelnuts, ground
    1 tsp    Baking Powder
 zest of    1 medium Lemon
Glaze:
  250 g    Confectioners Sugar
3-4 tbs    Lemon Juice
Directions:
Grease 10½ inch spring form and dust with plain bread crumbs.
Beat egg yolks with sugars then add lemon zest and stir in nuts, set this mixture aside.
Beat egg whites until stiff peaks form.
Fold egg whites into nut mixture with baking powder and blend well.
Pour into greased form and bake at 300°F for 1 – 1½ hour, until the center is set and a toothpick comes out clean.
Allow cake to cool completely then glaze.
The glaze should be the consistency of a paste so the juice and confectioners sugar needs to be adjusted accordingly.
When glazed the torte should appear white.
Dip each whole nut into the glaze and decorate the top of the torte.