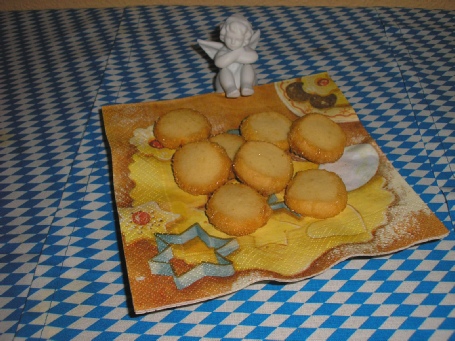 Ingredients:
200 g    Unsalted Butter, soft
  80 g    Confectioners Sugar
  75 g    Almonds, ground
 1 tsp    Vanilla Sugar
250 g    Flour, sifted
       1    Egg Yolk
1 cup    Turbinado Sugar
Directions:
Mix together the butter, confectioners sugar, almonds and vanilla sugar. Add the sifted flour and knead until thoroughly mixed.
Roll into 1½ inch diameter cylinders.
Wrap in plastic wrap and refrigerate for 2 hours.
When the dough is cold brush with the egg yolk and roll in the Turbinado sugar.
With a sharp knife cut cylinder into ¼ inch thick slices.
Place on a cookie sheet covered with parchment paper.
Bake the cookies for 10-15 minutes at 375°F until golden brown.