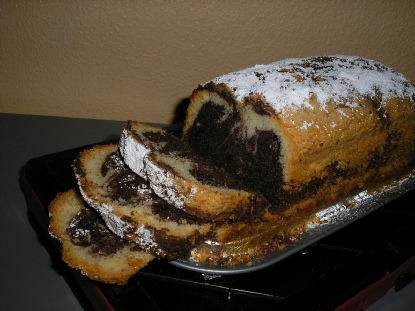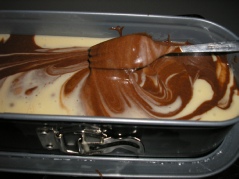 Ingredients:
  250 g    Confectioners Sugar
         4    Eggs
         1    Vanilla Sugar
  125 g    Flour
  125 g    Potato Starch
    14 g    Baking Powder
350 ml    Vegetable Oil
   2 tbs    Cocoa
Directions:
Stir together the confectioner's sugar, eggs and vanilla sugar.
Combine the flour, potato starch and baking powder and fold in to sugar mixture, adding the oil last.
Separate batter in half and mix the cocoa into one part.
Pour light batter into a buttered loaf pan, carefully spoon the dark batter on top and swirl in with a fork to create the marble effect.
Bake at 350˚F for 60 minutes.
Important: Do not forget!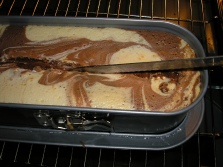 After 10 minutes baking score the top with a knife.
After it cools dust with confectioner's sugar or cover with a chocolate glaze.
Fast, easy and good!