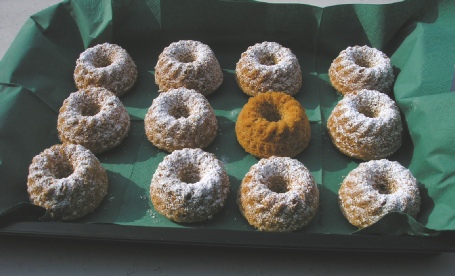 Ingredients: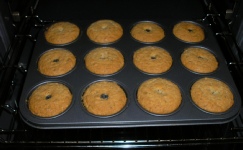 100 g    Unsalted Butter
  100 g    Sugar
      9 g    Vanilla Sugar
1 pinch    Salt
        2    Eggs
 150 g    Flour
     7 g    Baking Powder
   50 g    Walnuts or Almonds
              Confectioners Sugar for dusting
Directions:
Butter mini bundt muffin pan and coat with breadcrumbs.
Coarsely chop the nuts and lightly roast in a frying pan with ½ of the vanilla sugar, set aside to cool.
Beat together the butter, sugar, ½ vanilla sugar and salt.
Gradually add the eggs, then the flour, baking powder and nuts.
Pour 1½ tbs of the batter into each form.
Preheat oven to 340°F and bake for 20 minutes until golden brown.
Allow to cool for 10 minutes in the form, then remove and dust with confectioners sugar.