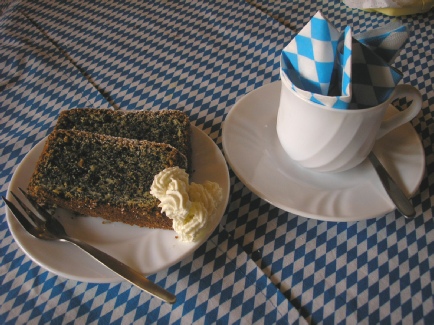 Ingredients:
 150 g    Unsalted Butter, soft
 150 g    Sugar
      9 g    Vanilla Sugar
        6    Eggs
 100 g    Flour
   14 g    Baking Powder
 200 g    Poppy Seeds whole or ground
   50 g    Almond Slices
  1 tbs    Rum
              Confectioners Sugar for dusting
Directions:
Separate eggs and beat egg whites till stiff peaks form.
Beat butter, sugars until frothy, gradually add egg yolks and rum.
Combine poppy seeds, flour, baking powder and almonds and stir into butter mix.
Gently fold in egg whites.
Prepare loaf pan with butter and breadcrumbs and pour in dough.
Bake in preheated convection oven at 325°F for 60 minutes.
Check with toothpick if cake is done.
Dust with confectioners sugar when cake is cooled or cover with a chocolate glaze.
Serve with Whipped cream.
If you like raisins add 50-100 g raisins to the dough.