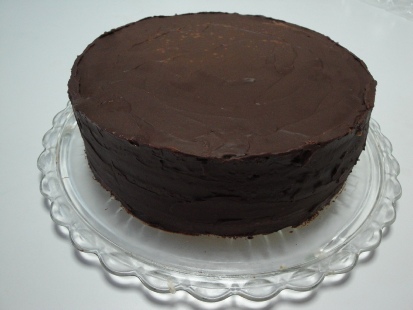 Ingredients: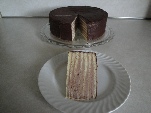 Batter
 250 g    Butter, unsalted
 250 g    Sugar
     9 g    Vanilla Sugar
        4    Eggs
  200 g    Flour
    50 g    Cornstarch
   1 tsp    Baking Powder
1 pinch    Salt
Filling
  1 pkg    Chocolate Pudding Powder, unsweetened
   1 tsp    Cocoa
  100 g    Sugar
 2 cups    Milk
  250 g    Butter, unsalted
Icing
  150 g    Confectioners Sugar
   3 tsp    Cocoa
   2 tbs    Hot Water
   1 tbs    Melted Butter or Coconut Butter
Directions:
Batter Mix:
Cream butter with sugars, salt and eggs.
Sieve together the flour, starch and baking powder.
Add to butter one spoon at a time.
Preheat oven to 350°F. Grease Pans with butter.
Divide batter into 8 equal portions as each layer is baked separately.
Spread batter on the bottom of an 8½ inch cake pan or spring form. This will be a very thin layer.
Bake for 8-10 minutes.
Filling:
Mix the pudding powder, cocoa and sugar in ½ cup of milk.
Bring 1½ cups of milk to boil in a saucepan.
When the milk has boiled remove for heat and stir in the pudding mixture.
Return to a boil one more while stirring constantly.
Pour into a bowl and allow to cool.
Set out the butter so that it comes to room temperature and is soft.
It is important that the butter and pudding are the same temperature to prevent curdling.
Cream the butter and add the pudding gradually.
Spread the filling between the cake layers leaving the top layer bare for the icing.
Icing:
Sieve the sugar and cocoa together.
Add enough hot water to form a paste.
Melt the butter and add to paste, stir thoroughly and spread on the top and sides of the cake.
The icing will become firm when refrigerated.