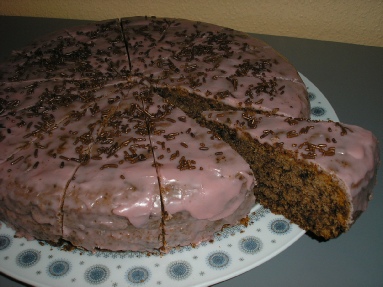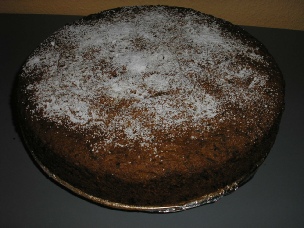 Ingredients:
  250 g    Unsalted Butter, softened
  250 g    Sugar
         1    Vanilla Sugar
         4    Eggs
1 pinch    Salt
   1 tsp    Cinnamon
   1 tsp    Cocoa
  250 g    Flour
    14 g    Baking Powder
125 ml    Dry Red Wine
 150 g    Mini Chocolate Chips
              Confectioners Sugar for dusting
Directions:
Whip butter and stir sugars, eggs, salt, cinnamon and cocoa.
Combine flour with the baking powder and fold in to butter mixture.
Stir in the wine and fold in the chocolate chips.
Butter a 10½ inch spring form and coat it with breadcrumbs.
Pour in the batter and bake at 350˚F for 60 minutes.
Check with wooden toothpick to see if it is done.
Remove the cake from the form and dust with confectioner's sugar after it cools.
For connoisseurs:
Glaze the cake:
Mix 200 g confectioner's sugar
with 3 Tbs Red Wine
and brush over the cake while still warm.
Sprinkle with chocolate sprinkles or graded chocolate