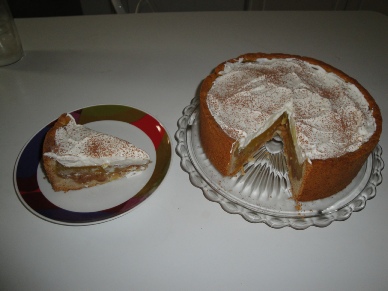 Ingredients:
Crust
  125 g    Unsalted Butter
  125 g    Sugar
         1    Egg
  250 g    Flour
      9 g    Vanilla Sugar
   1 tsp    Baking Powder
Filling
750 ml    White Wine
      9 g    Vanilla Sugar
  250 g    Sugar
 2 pkgs    Vanilla Pudding, unsweetened
    2 lbs    Apples, coarsely grated
Topping
200 ml    Whipped Cream
               Cocoa
Directions:
Grease 28 cm (10½ inch) spring form with butter.
Crust:
Combine all ingredients.
Press dough into bottom and up the sides of greased form.
Filling:
Mix vanilla sugar, sugar and pudding powder into 1½ cups of wine.
In a sauce pan bring rest of wine to boil and add the pudding/wine mix gradually, stirring constantly.
Bring up to a gentle boil and allow to thicken.
Stir the apples into the wine mixture and pour into crust.
Preheat oven to 325ºF.
Bake for 80-90 minutes.
When cake has cooled, top with whipped cream and dust with cocoa.