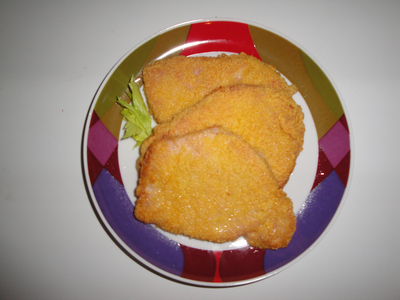 Ingredients:
  2 lbs    Pork Cutlets
  11 g    Salt
 2¼ g    Pink Cure
   ¼ g    White Pepper, ground
   ¼ g    Garlic, granulated
             Yellow Cornmeal
             Oil for frying
Directions:
Cut thin pork cutlets from center cut boneless pork loin.
Combine salt, cure, pepper and garlic.
Rub cutlets with seasoning blend.
Place into bowl, add the water and cover with plastic wrap.
The water will keep it from drying out.
Let sit in refrigerator for two days.
Cover with cornmeal on both sides and fry in hot oil until done.
How much to cover the meat with cornmeal is up to you!
See my post on eatsandmeats.com.