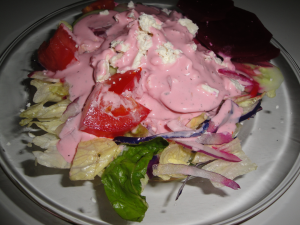 Ingredients:
¾ cup    Mayonnaise
½ cup    Half & Half
½ cup    Pickled Beet Juice**
¼ cup    Olive Oil
  2 tbs    Red Wine Vinegar
  1 tsp    Sugar
  1 tsp    Crushed Dried Oregano
  1 tsp    Dried Dill-weed
 ⅛ tsp    Granulated Garlic
             Salt & Pepper to taste
Directions:
Combine all ingredients and mix thoroughly.
Best when made a day ahead.
Fill into a closable container and refrigerate. For freshness use within 2 weeks.
** We found pickled sliced beets in "watery" or "syrupy" juice, if the juice is "syrupy" we suggest to increase the Half & Half by a ¼ cup.
Usage: Prepare a tossed salad to your liking and spoon dressing over to your preference.
For a Greek Style Salad add beets, feta cheese, black olives and red onions.