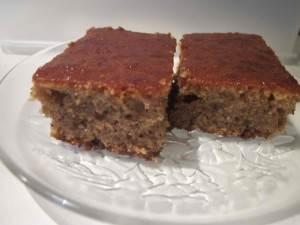 Ingredients:
   250 g    Flour
       7 g    Baking Powder
   300 g    Sugar
       9 g    Vanilla Sugar
   150 g    Candied Lemon and Orange Peel, finely chopped
   200 g    Almonds, ground
    3 tsp    Lebkuchen Spice
    1 tsp    Cloves, ground
250 ml     Milk
   150 g    Butter, liquefied
    2 Tbs    Honey
          4    Eggs
    3 Tbs    Apricot Marmalade, optional
Directions:
Combine flour, baking powder, sugar, vanilla sugar, candied lemon and orange peel, nuts, lebkuchen spice and ground cloves in a bowl and mix thoroughly by hand.
Mix together the milk, butter, honey and eggs and knead well into the dry ingredient mix.
Cover a baking pan with parchment paper, transfer the dough on it and spread it evenly.
Bake in preheated 390°F convection oven for 20 to 30 minutes until light brown.
Brush the still warm Lebkuchen with Apricot marmalade
(Heat 3 tbs marmalade with 1 tbs water and brush on),
cover with a chocolate coating
or just dust with confectioners sugar
Let cool and cut into pieces to serve