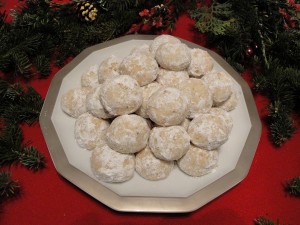 Ingredients:

  1 cup    Unsalted Butter, softened
 ¼ cup    Sugar
2 cups    Flour
  1 cup    Walnuts, chopped
  ½ tsp    Pure Vanilla Extract
1 Pinch    Baking Powder
1 Pinch    Salt
              Confectioners Sugar for coating
Directions:
Preheat oven to 325°F
Cream butter with vanilla, then beat in sugar, flour, salt and baking powder until blended. Stir in the nuts. Refrigerate for a half hour, the dough will then be easier to handle.
Roll dough into 1 inch balls. Place on an ungreased cookie sheet 1 inch apart.
Bake for 15-20 minutes until light brown.  Cool slightly and then gently roll in confectioners sugar until coated.  Set aside to cool completely, then store in an airtight container.
Makes 3 to 4 dozen cookies.