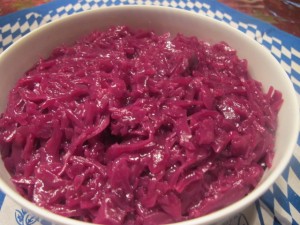 Ingredients:
     2 kg     Red Cabbage
         2     Onions (about 300 g)
         2     Apples (about 300 g)  firm & tart like  Boskoop or Macintosh
  100 g     Butter
    80 g     Sugar (4 heaping tbs)
         3     Bay Leaves
         5     Cloves
         5     Juniper Berries
500 ml     Water
200 ml     Apple Cider
200 ml     Red Wine Vinegar
    1 tbl     Salt
   1 tsp     Pepper
    2 tbl     Corn Starch, Potato Starch or a finely graded fresh Potato
Directions:
Clean the Red Cabbage, cut in half, remove stem and slice thinly.
Finely chop onions.
Peel apples, remove core and cut into small pieces.
In a large pot melt the butter, add the sugar and caramelize over low heat.
Add onions and apples and brown lightly.
Add the red cabbage and fold everything together.
Pour in water and apple cider and add the vinegar right away that the cabbage retains it's color.
Add bay leaves, juniper berries and cloves (if placed in a unfilled teabag or cheese cloth bag they are easier to remove in the end).
Cover and simmer for 1½ hours stirring occasionally.
Add salt and pepper to taste.
Whisk starch together with 5 tbs of water, stir into cabbage and bring to a short boil. Adding the graded fresh potato would replace the starch mixture.
Left over red cabbage freezes well for future use.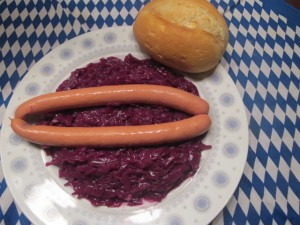 .
Serve with Roast of Goose, Deer, Sauerbraten, Rahmbraten and Rouladen
but also excellent with Hot Dogs and Bratwurst.