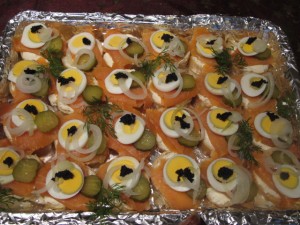 Ingredients:
    400 g     Smoked Salmon
    300 g     Cream Cheese
      2 tbs    Horseradish, prepared
      2 tbs    Tartar Sauce
      1 tsp    Salt
For the Garnish:
           4      Eggs, hard boiled
           5      Sweet-Sour Pickles
       3 tbs     Caviar
   1 Bunch     Dill, fresh
                    Onion, thinly sliced
             1     Baguette
Directions:
Combine the cream cheese with horseradish, tartar sauce and salt (to taste) and blend thoroughly.
Peel and slice the hard boiled eggs.
Cut bread (baguette) about ½ inch thick and spread with cream cheese mix.
Top with smoked salmon and garnish with a slice of egg, some caviar and onion slice.
Place on serving platter and decorate with sprigs of fresh dill.
Alternatives:
Caviar, use the cheaper Lumpfish Caviar.
Onion slices, if you want to prepare these bites ahead of time or cut down on the sharpness you can blanch the onion slices.
Sweet-Sour Pickles, we use Gundelsheim Barrel Pickles from Germany, bought in ethnic food stores and we also found them in the imported food section of our supermarket chain(s).