-from Oma Kaethe's Cookbook-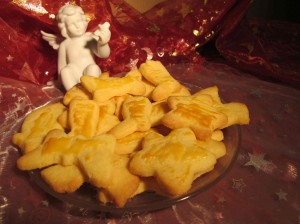 Ingredients:
375 g      Unsalted Butter, softened
190 g      Sugar
       5      Egg Yolks
500 g      Flour
To Brush on:
Directions:
Use a mixer with a dough hook, cream the butter and sugar, then add egg yolks.
Add flour spoon by spoon and keep kneading.
Separate the dough into 4 balls and refrigerate.
Once firm, place dough between plastic wrap and roll out to a 3/8 inch thickness.Cut out cookies with different shaped cookie cutters.
Place on a parchment paper covered cookie sheet and brush with egg yolk.
Bake at 350ºF for about 10 – 13 minutes until golden brown.
Try our Nutty Macaroons recipe to use up left over Egg Whites.