The Homemade alternative to the syrup available at Ikea.
Beginning of June when the Elder Tree is in full bloom it is time to make the years batch of elder flower syrup. It tastes great in Champagne, Mineral Water and mixed drinks like a Hugo (a favorite of all our friends) or the drink recipe we found at Ikea.
With about half a year of cold weather here in Michigan the syrup is also excellent in a glass together with a few slices of ginger topped with hot water.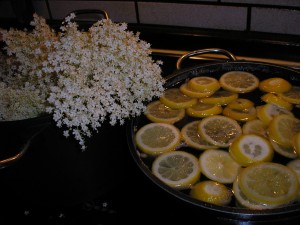 Ingredients:
   1 kg    Sugar
1 Liter    Water
       2     Lemon
     25     Elderflower Umbels in full Blossom
Directions:
Cook the sugar in water until dissolved. Slice the lemon, add to the sugar water and bring it up to a boil again and let cool until it is about body temperature.
Prepare the elder blossoms by shaking them vigorously to eliminate any possible insects. (We usually do this before we bring the blossoms inside).
Cut off the thick stems and place them into a large pot.
Pour the cooled down sugar water over the blossoms, cover and let stand at room temperature for 3 – 4 days.
Remove the lemon slices after 24 hours.
Filter the finished syrup through a cheesecloth and fill into sterilized, closable bottles.
The syrup will keep for a year in a cool location or until the next blooming of the elder trees.