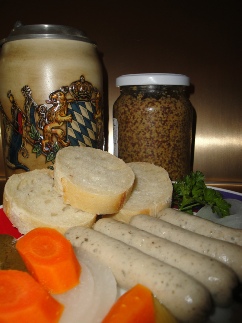 This is a Specialty in the region of Northern Bavaria.
Ingredients:
        6    Bratwurst, uncooked
        1    Onion
        1    Carrot
1 stalk    Celery
        1    Bay Leaf
        6    Peppercorns
        2    Cloves
              Salt to taste
        5    Juniper Berries
6 cups    Water
 ½ cup    White Vinegar
Directions:
Prepare the stock. Clean the vegetables.
Slice the onion.
Celery and carrot can be cut in half.
Pour the water in the pot, add the vegetables, spices and some salt.
Simmer for 10 minutes.
Add the vinegar and return to a boil.
Place the bratwurst into the stock, reduce heat and cook for 30 minutes or until sausage is done.
Ideal temperature of the water should not be over 170°F during cooking so that the sausages do not split open.
Serve sausage on a plate with some of the cooked onions and a little bit of the stock.
Bratwurst = "Frying Sausage"
The Bratwurst in Franconia differs from town to town with a range in size from a breakfast sausage to the size of the Bratwurst we are used to in the USA.
As to the length, in one town you even have to order them by the meter.
Want to make your own, check out our original Bavarian/German Bratwurst recipes in our sausage section.

Cooking time differs depending on the diameter bratwurst you use.