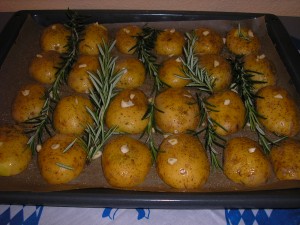 Ingredients:
      2 lbs       small Potatoes
  6 sprigs      Rosemary, whole, fresh (about 3 tbs)
 2 cloves      Garlic
  1-2 tbs      Olive Oil
                   Salt and Pepper
Directions:
Prepare a cookie sheet with parchment paper.
Wash potatoes, cut them in half and place them skin up on to the cookie sheet. If potatoes are larger cut them into 4 to 6 pieces.
Mince the garlic and sprinkle on top of the potatoes together with the rosemary.
Brush with olive oil and season with salt and pepper to taste.
Bake in oven for 35 – 40 minutes at 400ºF.
A healthy side for Meat and Fish. Try our Quark with Chives recipe, see serving suggestion in the picture below.