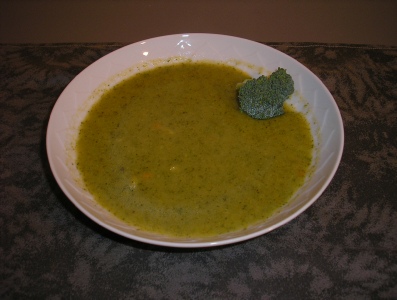 Ingredients:
     1 tbs    Olive Oil
  1¼ cup    Onions, diced
  1½ cup    Potatoes, diced
    ¾ cup    Carrots. diced
      1 lbs    Broccoli
6½ cups    Vegetable Bouillion
                 Salt
                 Black Pepper
                 ground Sage
                 ground Mustard
Directions:
Heat oil in a pot, add onions, carrots and potatoes and sautée.
Add broccoli and pour in vegetable bouillon.
Simmer for about 15 minutes.
Add salt and seasonings to taste.
Purée with an Immersion Blender, bring back to a boil and add more seasoning if necessary.
Can be served with a dollop of sour cream or Crème Fraîche (see substitute recipe under sauces).
We use a Braun Immersion Blender,
which is not available in the USA anymore (120V).