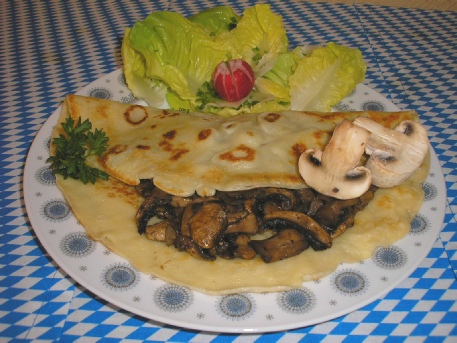 Ingredients:
Batter:
 2 cups    Milk
  200 g    Flour
         2    Eggs
 ¼  tsp    Salt
               Oil for Frying
Filling:
      1 lb    Mushrooms
 1 small    Onion
   ¼ tsp    Salt
   ¼ tsp    Nutmeg, optional
    2 tbs    Butter
Directions:
Preheat oven to 200°F.
Slice the mushrooms and finely dice the onion.
In a frying pan melt the butter, add the mushrooms and onions, saute to a golden brown.
Set aside and keep warm in the oven.
Whisk all the batter ingredients together to form a smooth mixture.
In a 9 inch non-stick frying pan heat one teaspoon of  oil, add one ladle of the batter (rotating pan until batter covers the bottom) and fry until golden brown on both sides.
Place on a plate, spoon some of the mushroom mix onto half of the omelette and fold over.  
Makes 6-8 omelettes.