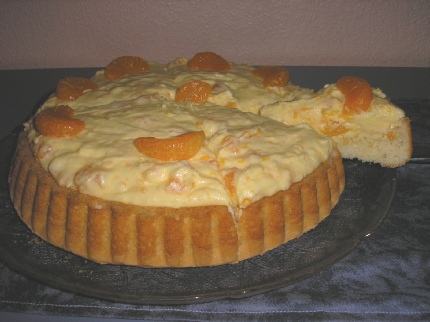 Ingredients: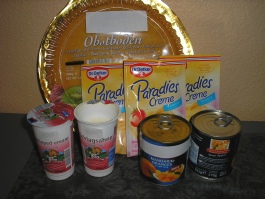 2 cans   

Mandarin Oranges, 11 oz each

2 cups    Heavy Cream
 247 g   

Instant Vanilla Pudding & Pie Filling
1 Tortenboden – Flan – Tart Cake
Directions:
In a plastic bowl with a well sealing lid, combine the oranges with the juice, heavy cream and instant pudding.
Cover, making sure it is tightly sealed.
Shake the bowl four times. With a whisk stir it through and allow to rest for a few minutes until it thickens somewhat.
Pour onto the flan, refrigerate and serve when chilled.
Quick and easy.
Tortenboden (flan) can be purchased ready made at many fruit markets or a recipe for it is in our baking section.
Variations:
Canned Raspberry or Peaches with Vanilla Pudding.
Canned Cherries with Chocolate Pudding.
The original recipe calls for Paradiescreme by Dr Oetker which is according to Dr. Oetker not available in the USA at this time.
We used the instant pudding and it worked well. The "Paradiescreme" does, IMHO, improve the flavor.